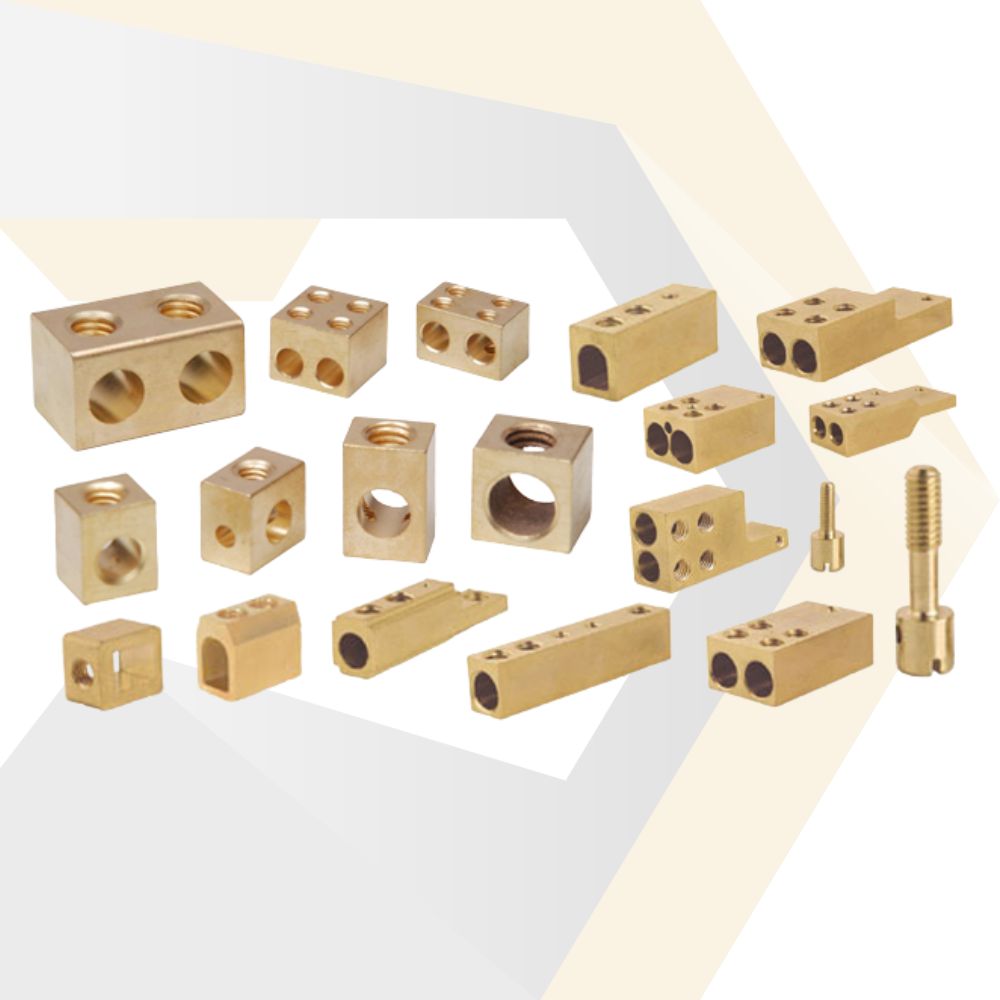 Brass Energy Meter Parts​
Material
Mild Steel (MS)
Stainless Steel
Copper
Silicon Bronze
Phosphate Bronze
Free Cutting Brass IS 319 Type (I) or
Free Cutting Brass as per BS 249 Type (I) or
High Grade Free Cutting Brass
CDA 360 Brass
CZ-360 High Grade Brass
Any Special Brass Material Composition as per customer requirements.
B.S.W., B.S.F., B.S.B., B.S.P. & B.S.P.T as per British Standard Whitworth Form
N.C. & U.N.C., N.F. & U.N.F., N.P.T & N.P.S., N.S., N.E.F. etc. as per American National Form Threads
Metric, NPT, BSP, PG or specified
ISO Metric (MM Threads)
BA Threads
DIN Standard
GB Threads
Length/Size:
Any size as per Custom Designs or requirements.
Finishing Available:
Nickel Plating
Chrome Plating
Tin Plating
Copper Plating
Blue Zinc Plating
Yellow Zinc Plating
White Zinc Plating
Silver Plating
Gold Plating
Brass Plating
Any other coating as per customer requirements
Corrasion and Chemical Resistant
Any types of meter parts can be developed as per customer's requirement & specifications.
We are a Leading Manufacturer and Exporter of Brass Energy Meter Parts, Brass Flow Meter Parts, Brass Auto Meter Parts, Automobile Meter Parts, Brass Water Meter Parts, Brass Gas Meter Parts, Energy Meter Terminals, Sealing Screws, Brass Meter Links, Electrical Meter Spare Parts. The range of Brass Meter Parts are available as per custom specification and requirements. which are widely utilized in different enterprises and families. We modified different sorts of Brass Meter Parts for single and three stage energy meters. Our Brass Meter Parts are incredible in usefulness and practical. The offered scope of Brass Electrical Meter Parts have been tried and endorsed to meet the scope of custom specification, and suitable for various applications and ventures. They are accessible with various threads, size, color, mounting options, length and more.

Keywords:
energy meter parts
brass energy meter parts manufacturer
single phase energy meter parts
main parts of energy meter
internal parts of energy meter